CLASSIC SERIES
– Glass Railing Systems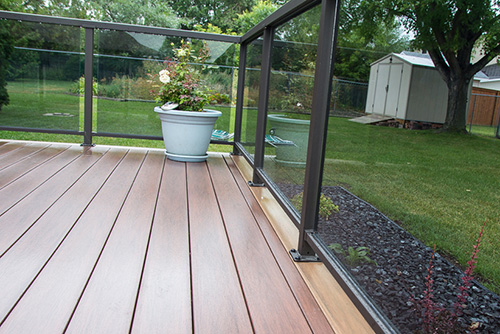 The S.T.A.R. "Classic Series" glass railing system offers a clean elegant look with a continuous top rail running over railing support posts below. The system is constructed from sturdy architectural aluminum alloys and coated with a maintenance free powder coated finish.
The system is available in both 36" & 42" rail heights with your choice of different rail designs. The tempered glass infill design gives you a clear unobstructed view while offering protection from the wind. Typical application utilize a clear tempered glass infill options, however tinted glass or obscured glass options are available.
Consult your S.T.A.R. representative for additional information. Refer to the S.T.A.R rail design details noted below to select the design right for your needs. Refer to S.T.A.R. color guide for available color options. The engineered system meets stringent North American Building codes. We invite you to visit our photo gallery.
CLASSIC SERIES – Glass Railing Systems

Our STANDARD "CLASSIC SERIES" railing system. Offering a clean elegant contemporary look featuring clear glass infill offering a unobstructed view and protection from the wind.

The systems features a railing design with the support posts mounted below a continuous uninterrupted top rail with our standard tempered glass infill.

 Design variations within the rail frame.