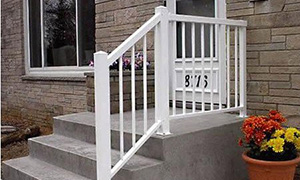 Aluminum Rail – Safety is Job # 1
The primary function of a guardrail is that of safety. Although esthetics and costs are often considerations found on most consumers's guardrail shopping lists, guardrail structural strength and safety should top their list.
One of the key primary components of a guardrail is typically the posts, which are used to support and anchor the guardrail to the structure. You should know that all posts are not created equal. As a general rule, bigger is better (and stronger).
For example a 2" x 2" post with a .125 wall thickness will yield a better system design load strength than a smaller 1 ½  x 1 ½" post with a 0.080 wall thickness. Although the guardrail system using the smaller post may cost less, one has to ask themselves…Is the saving in cost worth compromising your family and friends safety?
When a residential consumer is buying an aluminum guardrail system it will likely be the last sundeck railing they will buy for their residence in their lifetime. Don't make saving common cents affect your common sense when it comes to making good purchasing decisions.
The moral of the story is………..you are better to be SAFE  than sorry……save yourself from being sorry about worrying if that less expensive railing is up for the task of providing  you the peace of mind knowing if is safe or not?
Remember the primary function of a guardrail is that of safety!!
Norm Plumb
STAR Systems International Ltd